UVA in Lyon : Summer 2023
Here we come!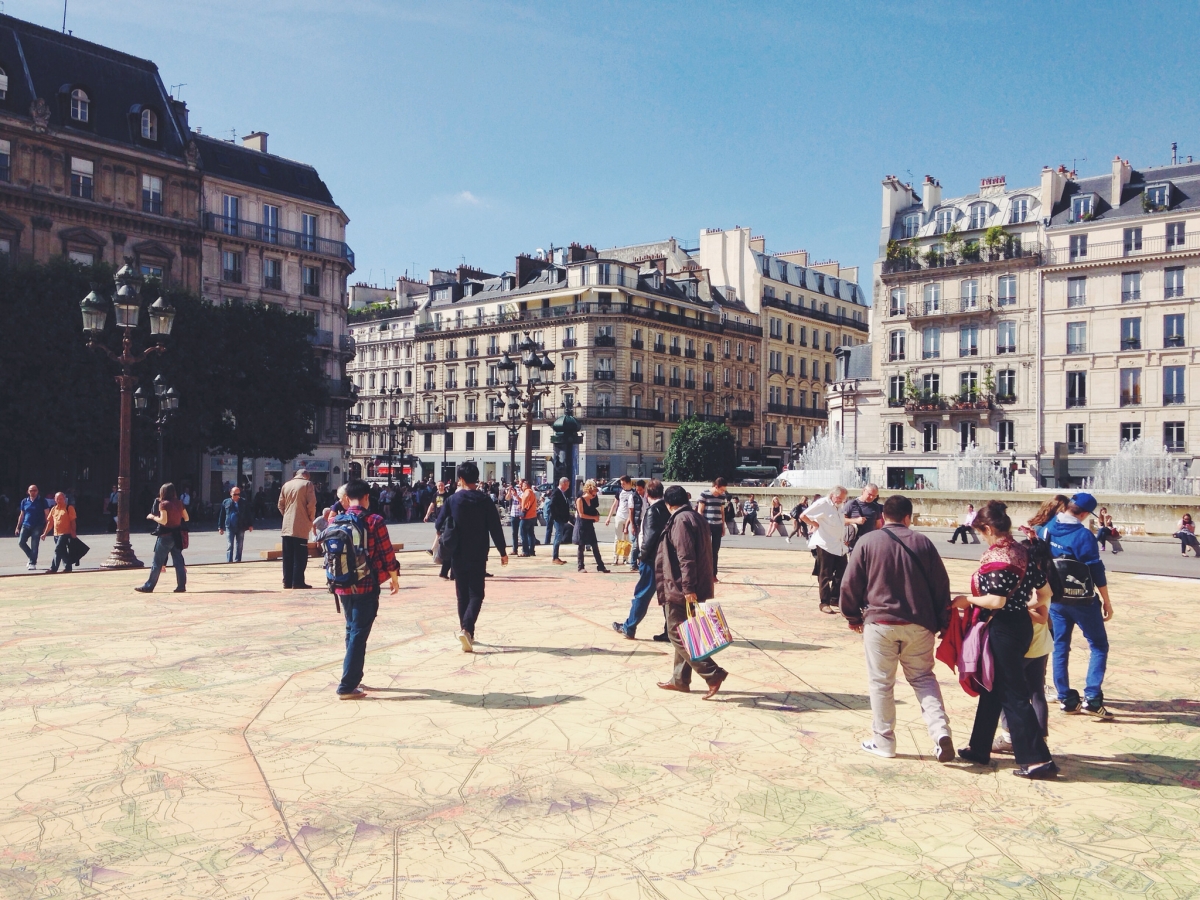 Located at the confluence of the Rhône and Saône rivers, Lyon is, and always has been, a unique crossroads of European cultures.  France's third largest city, whose historic center is a UNESCO World Heritage Site, Lyon provides an ideal location for the study of contemporary France as well as its rich historical and cultural heritage.  With approximately 1 million inhabitants, Lyon has the liveliness and energy of an urban setting yet avoids some of the pitfalls of the Paris metropolis. Daily life is more affordable, the pace of life a bit slower, cultural life is abundant, and Lyon has the reputation for being the gastronomic capital of France! In Lyon, the university is just one part of a diverse, lively city and, as a result, American students will not hear English spoken at every café terrace as might occur in some other common destinations for study abroad in France.
***We are now officially accepting applications to the Summer 2023 UVA program in Lyon, FRANCE!  (Fall semester 2023 applications will open shortly)***
APPLY HERE -- click for details (see tabs on Academics/Costs & Finances/ and Planning Information)
There will be two sessions of the UVA in Lyon summer 2023 program. Participating students earn 6 UVA credits and enroll in two courses.
Session I from Saturday, May 27 -  Saturday, July 8th. This is a 6-week program for intermediate students of French. Three couse combinations are possible during this session: FREN 2010-2020; FREN 2020-FREN 3034; FREN 3034 and one section of FREN 3585.
Session II from Saturday June 10- Saturday, July 8th.  This is a 4-week program for advanced students of French. All students will enroll in two section of FREN 3585 or FREN 4858. This years courses will be "Film in Lyon"  and "History, Memory, and Culture in France Today"
There will be a trip to beautiful lake Annecy (2 nights), several group meals in local restaurants, museum visits, a cooking class and many other opportunities to practice your French and discover the beautiful city of Lyon!
Application deadline is March 1st.  Generous scholarship funding is available through the International Studies Office ISO-Scholarship page
Please contact our ISO Study Abroad Advisor –  Margaret Walter -- if you would like to be place on our Email list mkg7g@virginia.edu
We will be holding an Information Session shortly after the beginning of classes.
Courses for UVA in Lyon 023
FREN 2010-2020: Intermediate French (6 credits)
This 6-credit/6-week sequence focuses on the development of speaking, listening, reading and writing skills in French while taking full advantage of the unique cultural immersion experience of life in Lyon. Expanding the walls of the classroom into the city itself, students will enjoy cultural outings designed to complement the curriculum. (Fulfills year 2 of the College Required Course Sequence).
Former students wrote:  "The teachers were amazing and I learned so much in a short time frame." "All the activities deepened my understanding because we used French and experienced cultural aspects first hand.'" Class was a great mix of traditional academic instruction and activity-based practice." "The professors were immensely helpful and willing to aid in my learning of the language." The classes were intellectually engaging. It was nice to speak and learn about French from the context of actually living in France instead of viewing it from the outside."
FREN 3034:  Advanced Oral and Written Expression in French, "Café Culture: The Art of Speaking and Writing Well in French" (3 credits)
Writers of "the Lost Generation," such as Hemingway, chose the café as a preferred location for writing and observing French life. Students enrolled in FREN 3034 will meet and work in cafés and migrate throughout the city of Lyon, as they work on perfecting their oral and written skills in French. FREN 3034 is a course for intermediate-level students who wish to improve their mastery of the French language while studying contemporary French culture. Prerequisite for this summer course: FREN 2020 or FREN 2320.
Former students wrote:  "This class challenged me to think about cultures outside of my own and allowed me to gain a perspective I never would have had otherwise. Lova is an amazing professor and I would jump at the chance to take a class with her again!"
This course counts toward the major and minor in French.
FREN 3585 / 4585 Topics in Cultural Studies­­— Film in Lyon
** Prerequisite: FREN 3031 & 3032 or equivalent.**
Lyon is often referred to as the "birthplace of cinema" because it was home to Auguste and Louis Lumière, inventors of the cinématographe in 1895. Lyon is also the subject and the backdrop of many French films, and the city is home to film festivals, film museums, film studies programs, and many working artists in the film industry. In this course, we will get to know Lyon in and through the movies, and we will also explore the history of movies and moviemaking in Lyon. Students will learn about the culture of innovation and experimentation that led to the birth of cinema in late 19th century Lyon; study films and filmmakers that have helped shape the image and memory of Lyon; and explore locations within the city connected to the creation, consumption, and criticism of cinema.
The class will meet at some times in a classroom and at other times, at museums or other field sites. Students will be expected to complete all viewing and reading assignments outside of class and arrive prepared to participate actively in class discussion, audiovisual activities, field trips, and conversations with guest lecturers. A high level of motivation, as well as a sense of adventure and good French skills, is expected. Students should be open to working in teams, and to completing an edited, original audiovisual project. No prior technical or audiovisual skills are required. The course will be conducted exclusively in French.
Students can take this course topic at the 3585 or 4585 level. All coursework will be in French  This course counts toward the major and minor in French.
FREN 3585 / 4585 Topics in Cultural Studies­­— "

"History, Memory, and Culture in France Today"  
** Prerequisite: FREN 3031 & 3032 or equivalent.**
What forces shape the collective personality of a place?  How and why does the past continue to shape present-day French culture and society?  The city of Lyon, like most everywhere in France, is saturated with layers of history and cultural memory. Taking Lyon as a starting point, this course will explore many layers of memory and history – from Lyon's ancient Gallo-roman origins to its role in the rise of the 19th century silk industry, and to its reputation as the capital of the Resistance against the Nazi occupation of France. Students will also learn about the broader effects of immigration and colonization on debates concerning race and national identity in France today.
We will make good use of the city to expand the walls of our classroom and visit museums, urban vestiges, memorials, and open air natural sites as we learn about the topography of the city and its history. Students will be expected to complete all readings and view films or interviews prior to class. Active student engagement in discussion will be a priority in this course.
Students can take this course topic at the 3585 or 4585 level. All coursework will be in French  This course counts toward the major and minor in French.
Student Reflections on Lyon
"I had an amazing time in Lyon. It was a very comfortable place to improve my French and the experiences I gained will stick with me forever."
      ~Martha Eason
" I could go on and on and on and on about how absolutely fabulous Lyon was."
      ~Lauren Newman
"One of my favorite moments...was when I realized I had been walking around Lyon for days without using a map and that I didn't need one anymore."
      ~Codi Trigger
"The UVa in Lyon program offered me a perfect way to experience France with its fair balance of organized program activities, which helped us to acquaint ourselves with the city and its culture, and gain confidence in a unknown place. Still we had plenty of free time, which I got to spend exploring on my own and with fellow students. A couple of experiences I will never forget include: cooking with a chef in Lyon (the gastronomical capital of France!), a 40km tandem bike ride in the town of Annecy with the French Alps as our backdrop, staying up all night for the summer solstice music festival, or a simple walk, browsing used books from vendors by the river and a glace enjoyed while strolling the cobblestone streets of Vieux Lyon (the historical district). "The assurance and encouragement I received from the locals when I practiced French in "real life" is something I will always remember fondly. Whether asking for peppers in the local market or directions to the nearest metro stop, I was often met with receptive smiles. My experience in Lyon really encouraged ownership of my trip to France by giving me a personal perspective on a previously unknown city and by contextualizing my French studies in unique and intimate way."
      ~Norhan Fillo